EXTERIOR SIGNS
When it comes to the art of sign making, we've got it covered.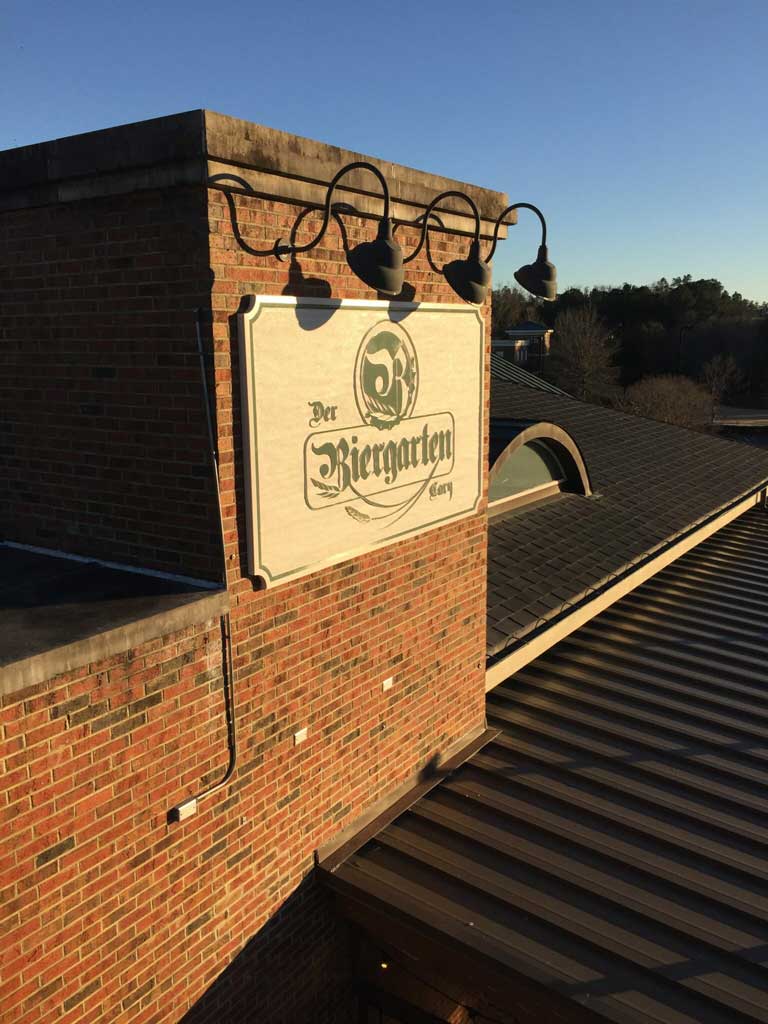 Exterior signs have all different purposes for making a statement, giving direction or for branding. We're happy to help make your vision become a reality. 
Whether you want to brand the exterior wall of your building, an entrance to a parking garage, or a directional for a medical office, we got you covered. 
Sandblasted Signs
Sandblasted signs are a great way to bring a vintage feel to a modern space. With new high density urethane (HDU) replacing a lot of standard wood signs you can get greater detail and longer life from these signs. This is always a beautiful option to brand any interior or exterior space.
Monument Signs
Monument signs are one the most important signs for your business! It's crucial to make a great first impression and grab as much attention as possible. We are experts at developing striking monuments that also stay within your town's sign code. Give us a call and we'll make your business the best looking on the block!
Channel Letters
If you've ever driven past a strip mall at night, then you're probably familiar with the effectiveness of channel letter signs. One of the most common ways to advertise your business storefront, are our channel letter signs that can be created to fit any budget and concept.
Local sign ordinances my determine what types are signage are allowed at your location.
Dimensional Letters & Logos
Whether you want to brand the wall behind your desk or the exterior wall of your building, we got you covered. Dimensional Letters are a relatively inexpensive way to make your brand stand out on almost all surfaces. We will creatively execute any logo, anywhere using materials ranging from acrylic to metals to PVC. Let us help you brand your business.
Cabinet Signs & Lightboxes
Attractive backlit signage is very popular today. We offer a large variety of shapes and sizes. We can even offer back lit signs that turn or have multi-messages. Backlit signage is ideal when you want to change your message periodically for very little extra cost.
Post & Panel Signs
Make an advertising statement wherever you are with high-quality, customized site signs. Personalize real estate signs with the sales associate's name, photo, and phone number.
Our all weather signs are sure to get the attention of passersby. Yard signs can be used to promote a service well done, let potential tenants or purchasers know all the information they need or simply point people in the right direction.
Our Corplast corrugated signs are made of durable plastic and silk screened on both sides in one color. The metal signs come in an angle iron frame and can be printed in multiple colors on either one side or two.
With a wide range of solutions to fit any budget we can assist you in selling or generating referrals. We offer more economical plastic corrugated stake signs to the traditional, more durable metal-framed signs.
LED & Digital Display
Want your current sales and ongoing promotions to be visibly seen from the road? Of course you do!Our LED and Digital Display signs will let every by-passer know you are open for business with bright colors, visible graphics, and clear letters that are even visible at night. These brightly illuminated signs can be easily changed and tend to capture the consistently shrinking attention span of consumers. LED and Digital Display signs are sure to positively impact your business and give you the competitive edge.
Take a look at some of our work.
"SignCraft Solutions recently installed the graphics on the door for our new Refuge Church office and it looks fantastic! They were great to work with! We'll definitely work with them again!"
"Pam and SignCraft did an excellent job in creating our sign inside our office. They were prompt and professional. I would highly recommend them for all your sign needs."
Sign Design, Fabrication, Installation & Repair
Contact us today
(919) 556-2672
4154 Shearon Farms Ave., Suite 109
Wake Forest, NC 27587
Serving the Raleigh – Durham – Chapel Hill Areas – & Beyond!